3

Data

This section pertains to ESG data: what it is, how it is constructed, who sells it, and why it is imperfect.

The notebook relies on some code, in the R programming language.
The code makes use of packages, or modules (just like in Python, for instance).
These packages are called via the library() function like that:

Of course, in order to be able to access these modules, you need to install them first (if you have never done it). Usually, you install packages only once, except if you want to update them.

install.packages

(

"tidyverse"

)

 

# This installs the suite of packages called the tidyverse
The course is not a coding course and does not requiring coding skills. The code is left for the data science-savvy readers.
Code averse readers should of course skip it.
3.1

What is ESG data?
3.1.1

ESG fields

ESG data pertains to numerical fields that assess an entity's (e.g., firm or country) performance with regard to one of the three thematic pillars: Environment, Social and Governance. Each pillar has several dimensions, also known as issues. The latter can even be further decomposed into sub-issues.

Raw numbers are simply fields (ex: CO2 emissions). Fields are processed or aggregated into synthetic scores at the issue and pillar level. These scores give a rough idea of the performance of the entity with respect to each pillar or issue.

NOTE: aggregation is much more complex than it seems (see below). Some fields are beneficial, others detrimental and others should be compared to industry standard. Moreover, aggregation is very complex in the presence of missing fields which happens all the time!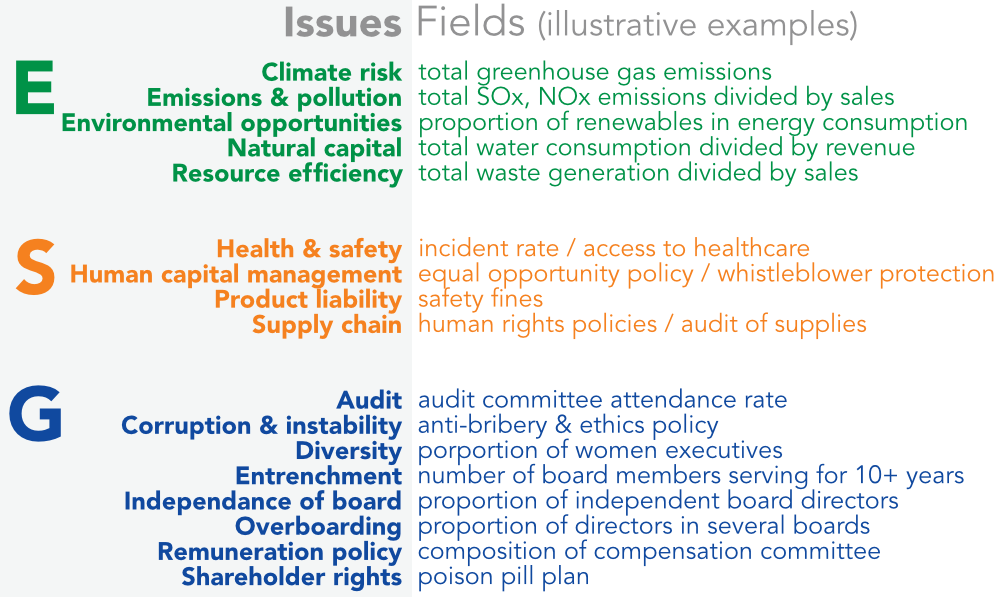 Another classification, from the ISO 26000 framework: it provides recommendations, but is not a certification.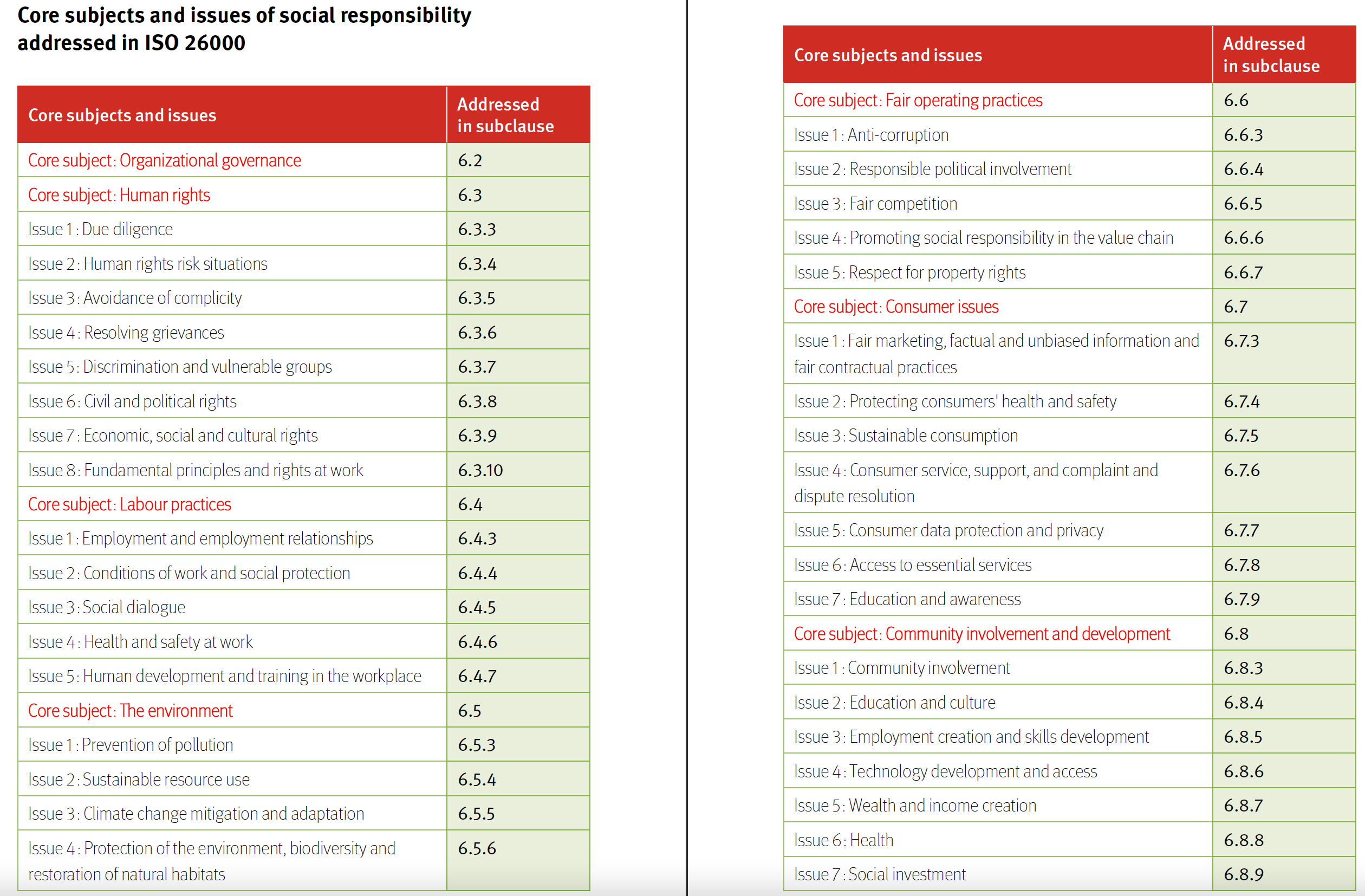 Of course, as will be recalled multiple times, access to ESG data depends on firms' will to accurately calculate figures and disclose them to the public. Because of the push for transparency, more and more firms are incentivized to do so. For instance, the CDP Project is an initiative that gathers data on carbon emissions of companies. The coverage of their dataset increases in time: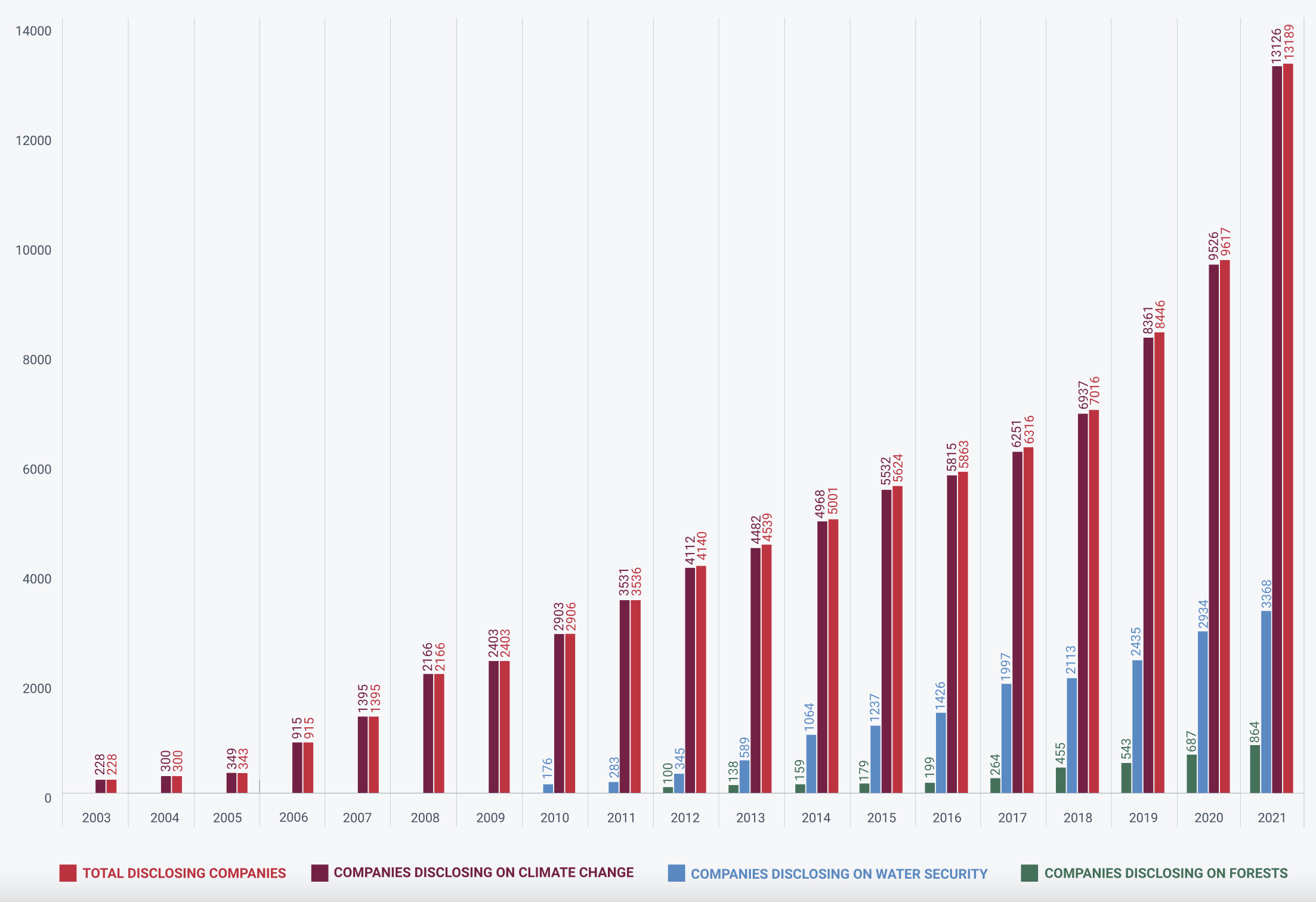 Thanks to new regulations, this trend is poised to continue. In particular, the Net-Zero Data Public Utility seeks to provide a free platform with access to ESG-related fields for a large number of firms. Such initiatives will help standardize disclosure and hopefully increase transparency.
3.1.2

Materiality

An important concept in ESG fields is that of materiality. Basically, materiality refers to fields that matter for an organization's business (in the sense: way of functioning). For instance:
- for a hospital, the ability to treat patients with equal care matters (S pillar);
- in a farm, reducing the use of pesticides is important (E pillar);
- in the printing industry, optimizing upstream & downstream paper recycling is crucial (E pillar). Basically this means printing on recycling paper & in turn recycling a maximum of paper waste.

Therefore material indicators depend very much on the way the entity works. Paper recycling is not a major issue in a farm - it is not material.

The SASB (Sustainability Accounting Standards Board) provides a mapping that helps assess materiality in ESG fields (http://sasb.s3-website-us-east-1.amazonaws.com/).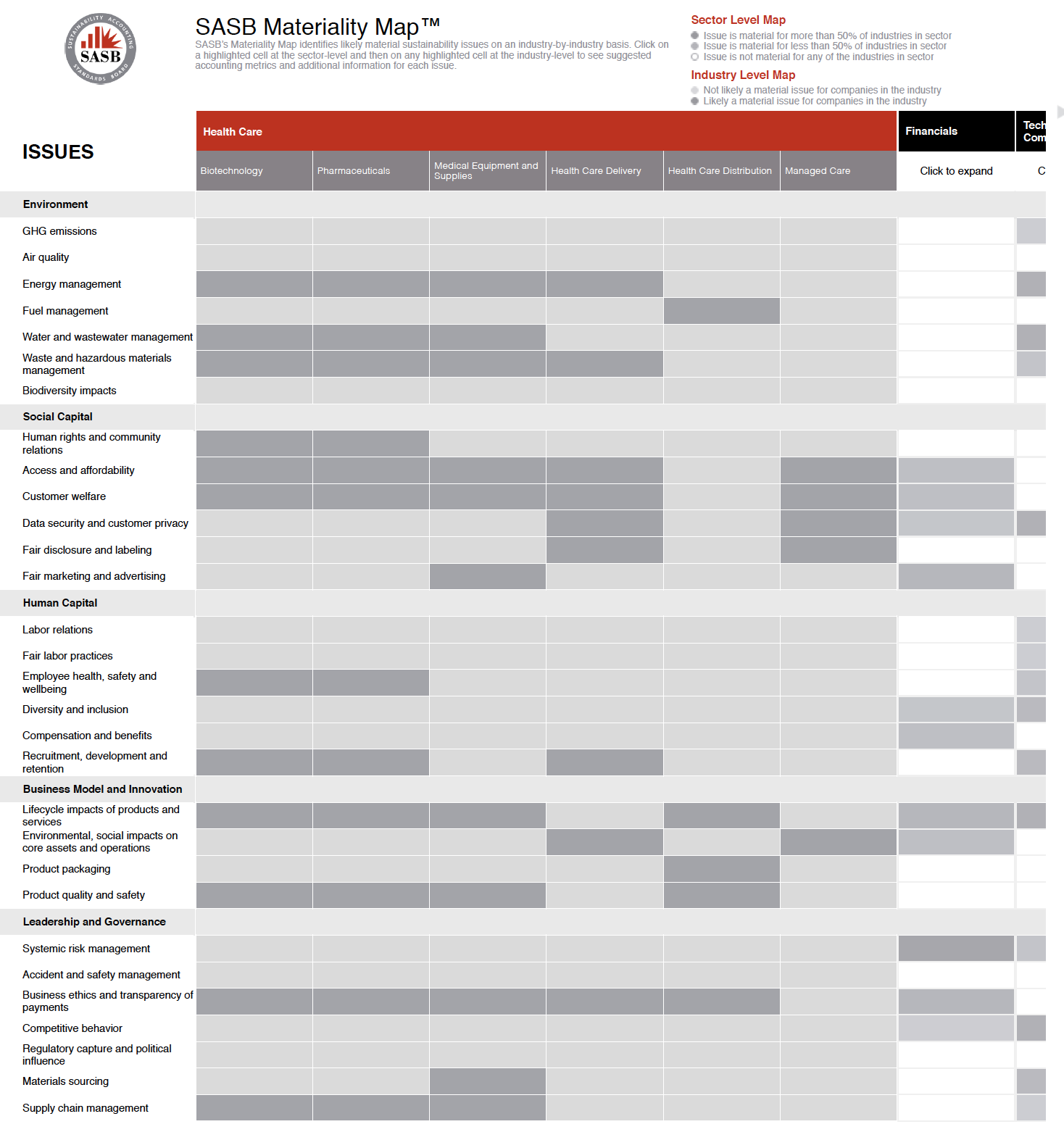 Originally, materiality came from the accounting world. Some accounting fields were deemed financially material if they were expected to have an effect on the financial performance of the firm. Thus, in the original definition, ESG materiality inherited this notion of financial impact, but for ESG fields. The effect that matters is ESG \(\rightarrow\) finances / corporate performance.
However, it is clear that this is narrow, from an ESG perspective. Indeed, in a modern context, the social & environmental consequences should also be examined. This is where double materiality kicks in (see diagram below, from the report entitled Guidelines on Reporting Climate-Related Information, by European Commission)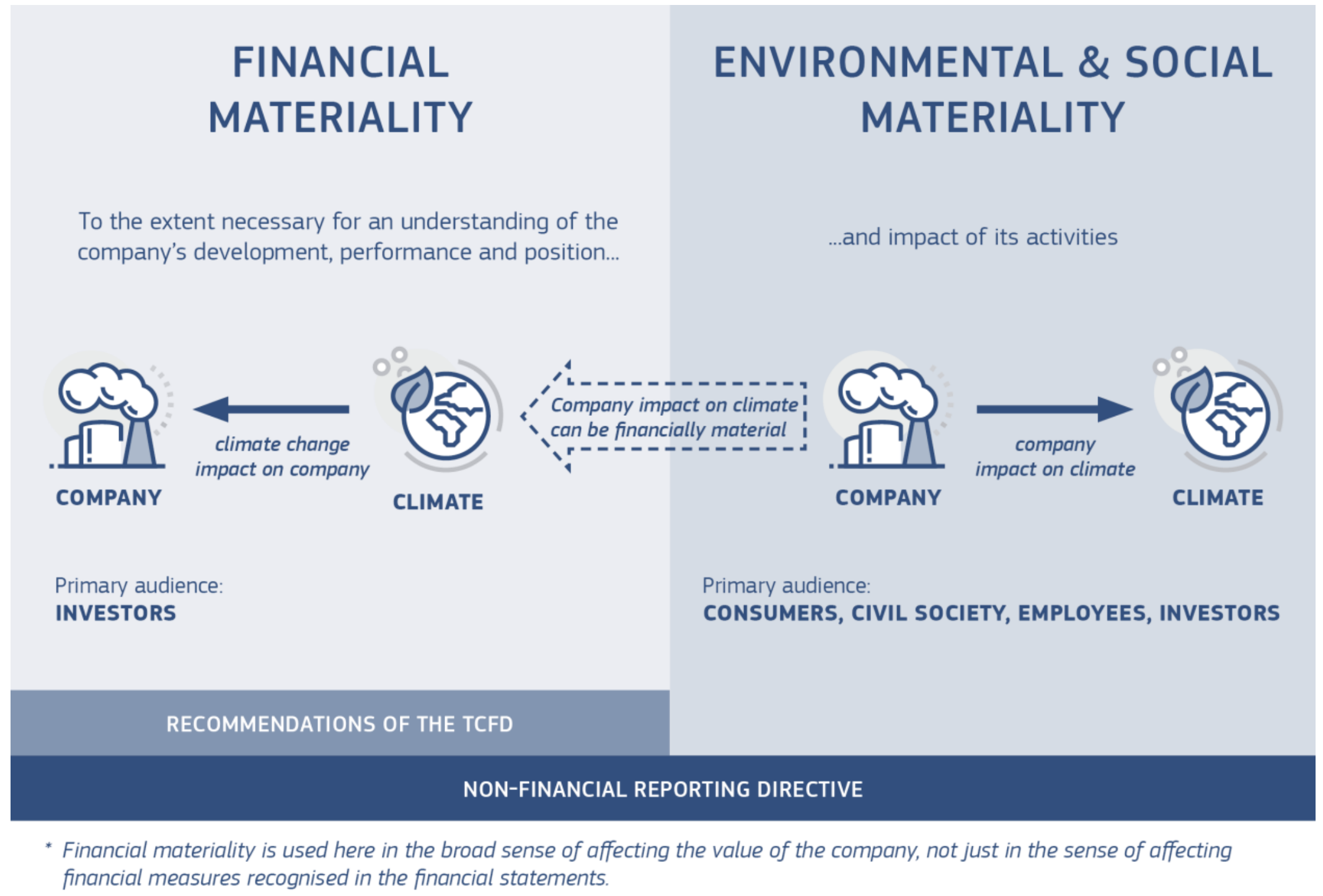 One way to interpret this is: ESG dimensions (climate incidents, social unrest) are likely to deteriorate business activity and hence financial performance. But reversely, business activity obviously has repercussions on the environment and social welfare (think: strikes in France!). The relationship goes both ways. However, some institutions like the International Sustainable Standards Board (ISSB), only advocate financial materiality…
In What information is relevant for sustainability reporting? The concept of materiality and the EU Corporate Sustainability Reporting Directive, from the Sustainable Finance Research Platform even advocate wider notions of materiality.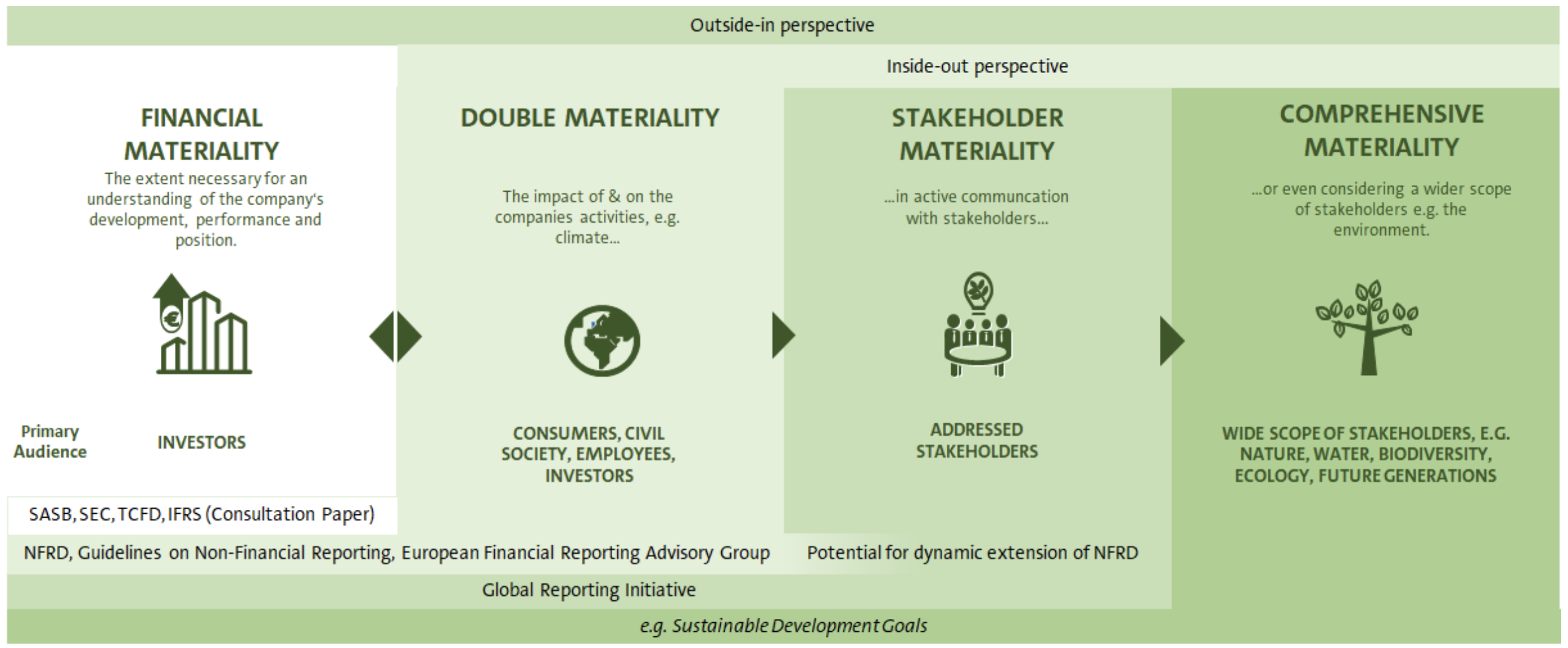 Stakeholders (clients, employees) are again put forward.
3.1.3

Greenwashing?

Strictly speaking, greenwashing relates to the marketing sphere. The Wikipedia definition is: a form of advertising or marketing spin in which green PR and green marketing are deceptively used to persuade the public that an organization's products, aims and policies are environmentally friendly. One of the most common examples is H&M, with is clothing line "Conscious", which misused the Higg Materials Sustainability Index.

It is possible that the term be "recycled" to attempts to artificially improve sustainable reporting in order for the firm to appear greener than it actually is. One adjacent issue is the labeling of "sustainable" financial products, like funds. In August 2021, the financial regulators in the US (Securities and Exchange Commission - SEC) and Germany (BaFin) revealed they were investigating DWS, a subsidiary of Deutsche Bank, and the second largest fund manager in Europe. In May 2022, DWS offices were raided by the German police. In 2020, DWS claimed to have 459B€ of green assets under management (funds incorporating ESG criteria for investment decisions). The figure sank to 115B€ in 2021…

This example shows that it has become very risky (and will become riskier) to dupe investors into buying wrongly labelled green funds. This is very beneficial for the industry - and maybe, at the end of the line, for the environment & society.
Lastly, though it's not necessarily related, new terms have emerged:
-"greenwishing": this refers to firms that publicly set very ambitious environmental targets, but fail to provide rigorous explanations on how they will achieve their goals. Cheap talk is not binding, but investors are not (always) fools either… - "grennhushing": (NOTE: the definition is not unambiguous!) this is either when a green company engages in some form of sustainability but refrains from communicating about it, OR when a brown company under-reports on purpose because its numbers are bad. Be careful: people can disagree on this one!
- greenlighting: communicating excessively on a green feature of a product. Possibly in order to take attention away from browner product lines. - see also: greenrinsing, greenshifting, etc.
3.3

How are ESG data collected or constructed?

The raw material that is used to craft firm-specific metrics is of two types:
- internal: the rater trusts documents disclosed by the company (e.g.: in annual reports, especially those dedicated to sustainability which are mostly compiled by large firms).
- external: the rater gathers data from outside the firm, such as: whistleblowers, social media, digital surveys (ex: synthesio), etc.; or try to estimate values from trustworthy fields, like accounting fields (which are regulated by norms & standards).

In some cases, there might not be the choice, as some fields are not provided by companies. Typically, each firm chooses which item it wishes to communicate in its (often CSR-ESG-dedicated) annual report. This is a major issue for providers because the lack of norm can make it hard to compare figures (e.g., GHG vs carbon emissions).
3.3.1

European regulation

Thus, the topic of non-financial (or sustainability) reporting is crucial. In Europe, under the original (chronologically) Non-Financial Reporting Directive (NFRD), large firms (>500 employees) with public interest must already provide basic ESG-related information. But fields and metrics were not standardized, and companies were free with respect to the methodology. This made comparisons impossible, so that data was not optimally useful.

The objective, via the Corporate Sustainability Reporting Directive (CSRD), is to extend this to all large companies. Listed small and medium-sized enterprises (SMEs) have until 2026 to comply. Non-European companies with substantial activity in Europe are also involved.

Basically, this means corporation will have to provide much more sustainability-related information. Just like for financial disclosures, it will be warranted (e.g., by assurance providers) and possibly audited.

Also, the reform puts forward the EU Taxonomy, which is a set of classifications that determines which activities are sustainable and which are not.

Finally, for the financial sector, the European Supervisory Authorities ("ESAs") have also validated the regulatory technical standards (RTSs) after crafting the Sustainable Finance Disclosure Regulation (SFDR). This will allow investors to better understand the goals and purposes of financial instruments, such as funds for instance. The text proposes a classification of funds and mandates into three categories, which are defined in articles:
Article 6: investment vehicles that do not integrate any kind of sustainability in their construction process. They are not forbidden but must clearly be labelled as non-sustainable.

Article 8: for environmental and socially promoting funds. Also know as light green funds: funds which promotes, among other characteristics, environmental or social characteristics, or a combination of those characteristics, provided that the companies in which the investments are made follow good governance practices. The fund manager must use the sustainability indicators (see below) actively in the allocation process.

Article 9: products targeting sustainable investments. Here, greeness is the objective, it's not just a tool. Typically, a fund that focuses on GHG emission reduction can be Article 9, but in this case, it must thoroughly prove how it will achieve its goal, especially in comparisons of benchmarks.
The latter two are of course more constraining, as they require active reporting on the following dimensions: summary of the fund, monitoring of synthetic ESG characteristics, investment strategy, proportion of ESG vs non-ESG assets.
Morningstar now tracks A8 and A9 funds (& flows) actively.
A snapshot of the amount of green funds under SFDR (source: Deloitte, based on Morningstar data):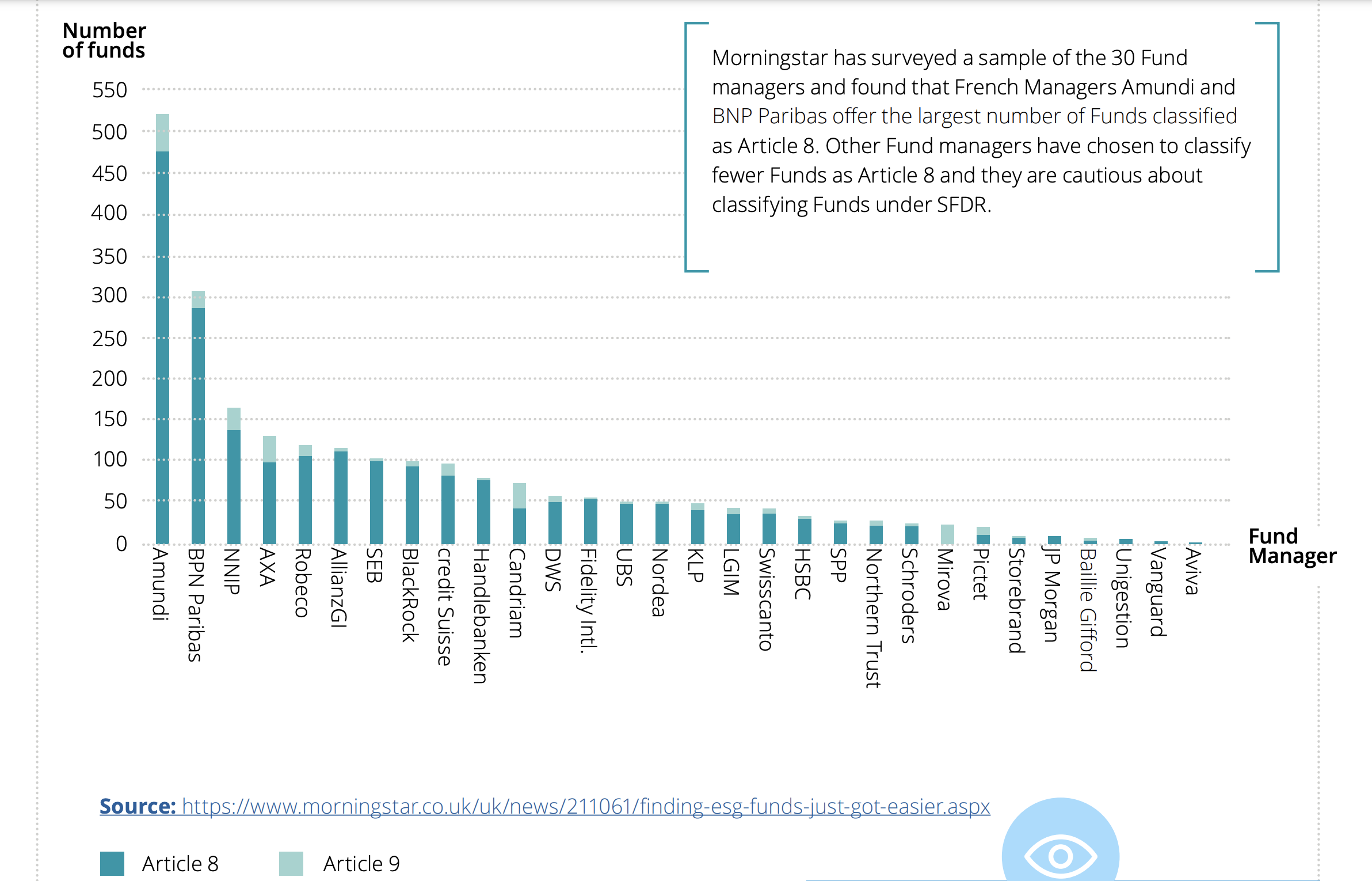 Examples of compulsory environmental fields, a.k.a., PASI "principal adverse sustainability indicators" (source: Deloite):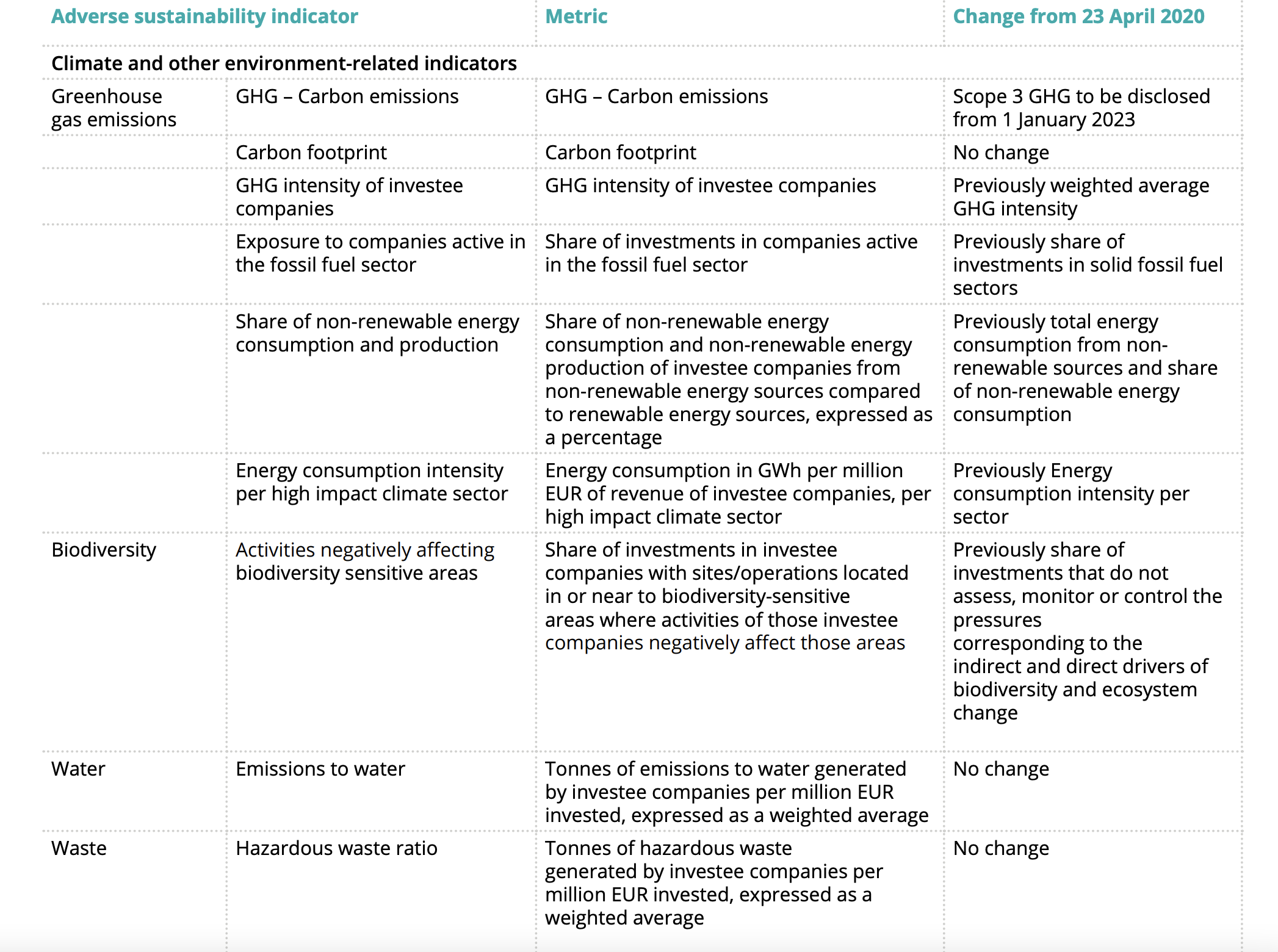 3.3.2

A dive into corporate documents

Let's first have a look at annual reports. Take Total Energies for instance. (All major firms have environment-related disclosure, see Apple for instance).

From the 2020 Universal Registration Document, we extract:

NOTE: there are more than 200 mentions of CO2 in the reports. Finding the same graph in the 2021 report is hard. You have to go page 304 (out of 664!) to get precise figures:

This is a typical illustration of why gathering data from reports is incredibly time-consuming because of formatting inconsistencies from one report to the next one. Training a bot or a supervised algorithm to do the work is very hard. Best results are probably reached by fetching the numbers manually - but this makes many numbers, for many companies, each quarter or year. In turn, this daunting task augments the risk of human failure.
In the 2021 report, Total mentions its intent to "Reduce the indirect emissions related to its products (Scope 3), together with society – i.e., its customers, its suppliers, its partners and public authorities – by helping to transform its customers' energy demand." Tying its goals with society is a prudent commitment… basically: they will do their best, but not alone. That can be referred to as greenwishing.
Naturally, each firm is free to write its report more or less in its chosen terms - and difference arise from country to country. Take Apple: the company even has an ESG page/platform: https://investor.apple.com/esg/default.aspx. It has a dedicated Environmental Progress Report and, more generally, an ESG report as well and both are updated annually. In the latter, the social pillar is a lot focused on gender and race - for equality, diversity & inclusion purposes. In the former (& the latter too), we get a good overview of emissions: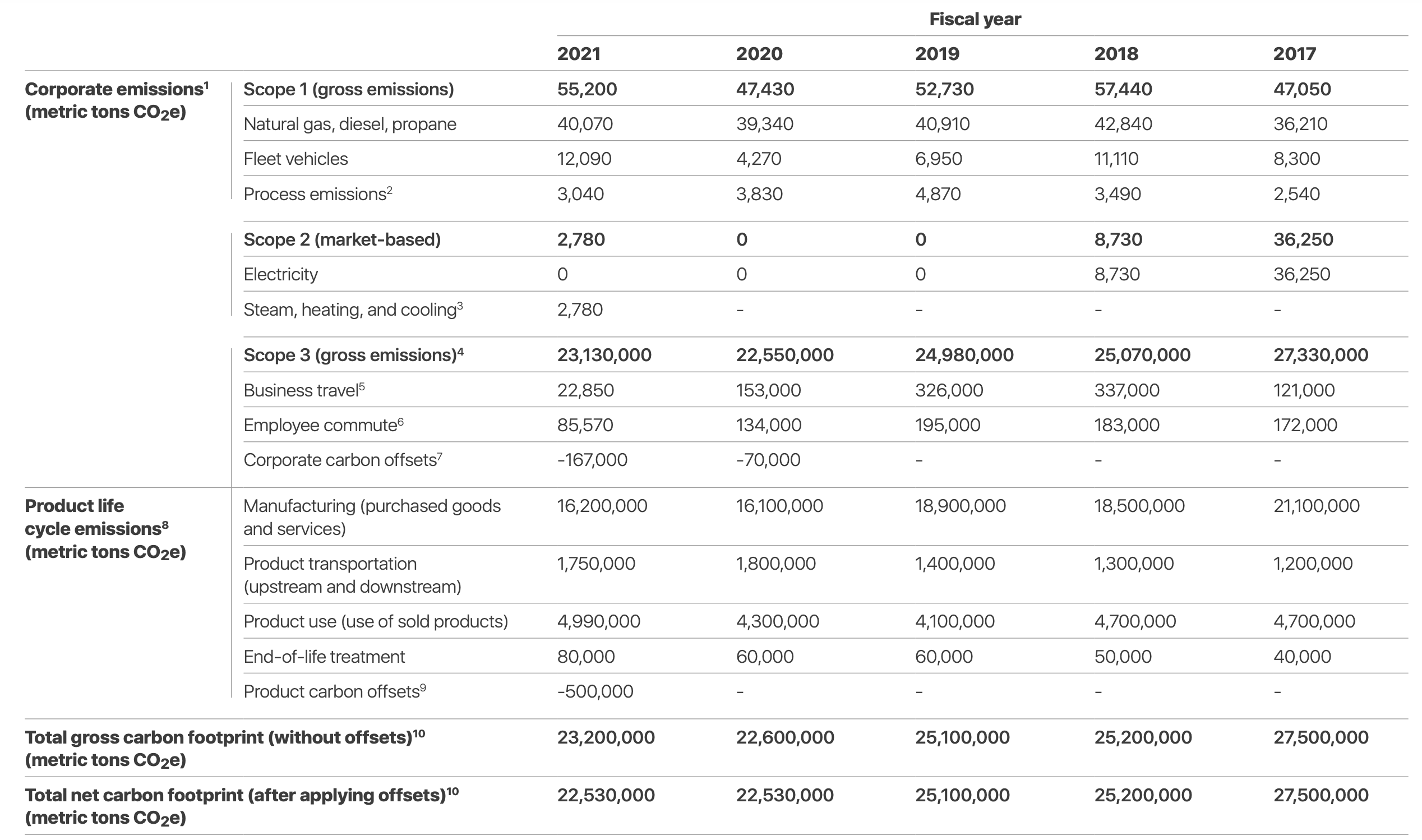 FUN FACT: in corporate reports, companies often mention "targets" (e.g., with respect to 5-20 years in the future) more than actual figures… This is a well known trick (also works for governments) because long term goals are often not implemented by those who decide and fix them. Pious wishes! Greenwishing again.
3.3.3

Aggregating fields

ESG is by essence multi-dimensional - if only because there are at least the 3 pillars! In practice, there are many issues that one would want to include into the analysis, but in the end, we often need one synthetic score that captures all the information. Thus, we have to aggregate figures, and this is hard - for two reasons:
First, there is the diversity in fields. For instance, some are numerical, some categorical (e.g., binary: does the firm have an ESG officer, or a anti-child labor policy?). Moreover, sometimes, some numerical fields are greener if they are high (% of recycling), sometimes it's better when they are small (emissions). Even worse, there are some fields for which average values are preferred. For instance: CEO tenure. Typically, short tenure is not great (less experience in the firm), but long tenure is also not a good signal (firms need fresh new ideas and CEO rotation is healthy, up to a point). Thus, a huge amount of coding, standardizing and weighting is required. First, all fields must be:

digitized (translated into numbers - this may require one-hot encoding in rare cases),

ordered (so that high values are preferred - this may mean being close to an (industry?) average value, as for CEO tenure) and

standardized, so that they all have the same (or similar) scale


Then, it's all a matter of weighting, and this will depend on preferences. For instance, given synthetic scores for each pillar, it is customary to take the simple average of the three (E+S+G)/3, but it is entirely possible to give more weight to one pillar in particular (1/2 + 1/4 + 1/4 for instance).
The second issue is missing data, a real pain in the discipline. One partial solution is simply to include a coverage score, wherein the amount of data disclosed by the company is a field of its own - and can have a substantial impact on the overall score. The other alternative is imputation, whereby we attribute a "fake" (or guessed) score to the company for a given field. There are many ways to perform imputation, depending on preferences and beliefs. The most conservative option is to give the firm the worst possible score, in order to strongly penalize the corporations that refuse to disclose (but sometimes it's also a question of lack of resource to do so… large firms clearly have an advantage here). A common option is to give an average (or median) value - either over all firms, or over all the firms of the same sector. Finally, it is also possible to resort to exposure estimation, as with the carbon beta.
In the end, the methodology that rating agencies use to compute synthetic scores is often considered as intellectual property, though some of them are quite transparent about how they proceed (white papers are sometimes available). But in the end, it is the gathering of granular data that is the most time-consuming. Aggregation is a matter of many choices, but is easily automated.
---
3.6

Wrap-up

The key takeaway from this session is that data is one (if not the) cornerstone of sustainable finance.
Measurement accuracy (& availability) is the main issue. Citizens (and investors) want trustworthy data.
Europe seems to be ahead in terms of regulation, but hopefully the US and Asia will follow.
3.7

Exercises
Pick two (or three) large firms you know or like and try to find ESG related data in one of their annual reports. Can you find common fields, like carbon/GHG emissions?

With the (excel) dataset from the course, compute carbon intensities (emissions/market cap) with figures from Provider A. With a pivot-table, compute the evolution through time of these intensities. Compare to total emissions. It can typically be the case that total emissions increase while intensities decrease: this would come from the fact that market capitalization grows faster than emissions.